D G S Dhinakaran
Bro.D.G.S. Dhinakaran, ever since the day he gave his life to Christ, started to do whatever he could to propagate the love of Christ, with a burden for the dying souls that he knew, could be revived by one touch of the Almighty, just as his own life was changed. So, even as he was working in a bank as an ordinary employee, he would exact all his duties at office quickly and would be found on the streets, reaching far off villages on his bicycle, preaching the good news to everyone who would stand to listen to his words. The Lord saw the faithfulness with which Bro.Dhinakaran served Him and decided to trust into his hands, a mighty ministry that would reach out to millions around the world, with His divine compassion.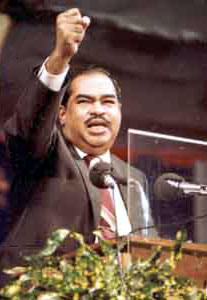 On October 10, 1962, Lord Jesus appeared face to face for three long hours before Bro.D.G.S. Dhinakaran and gave His commission to serve the suffering humanity:
"My son, people might have heard of My love; but they have not tasted it. So, I pour My love and compassion in your heart. This love will console their broken hearts and heal their diseased bodies. You will be witness to the power of My Holy Spirit."
With this glorious vision and these words of assurance, He rewarded His servant who had persisted in prayer for this divine revelation and blessed him profusely.
There was launched that day a one-man-ministry to begin with. Bro.Dhinakaran began to look at men and women all over the world - irrespective of their caste, creed, race or language - as his own brothers and sisters, considered their tears as his own, preached to them the love and compassion of Christ, prayed with a broken heart for their needs and by his intercessory prayers moved the Lord Jesus to do miracles to meet them.
On October 12, 1970, the first public meeting was organized where Bro.Dhinakaran shared the word of God with power to the thousands assembled at a ground in Vellore, under the banner of the Ministry's present name JESUS CALLS.
The Jesus Calls Ministry has spread far and wide on all sides. Today, with God's grace, it has grown into a multifaceted far flung ministry, spreading the Good News to the world in 21 different ways.